Heather Jordan got married in a simple ceremony last May, figuring she'd wear the Womens Sexy Dresses of her dreams during a reception on her one-year anniversary.
She'd known for years what the gown would look like: no sleeves or back, and a sweetheart neckline overlaid with vintage lace and crystals. The Womens Sexy Dresses would have a tight, pleated bodice and a milky white flared skirt, made poofy from more than a dozen yards of tucked-away tulle.
The line on the skirt would dip from one hip to the other--not follow a straight, even line--because Jordan doesn't like anything traditional.
"It'll be different," she said.
The one-of-a-kind gown is just the beginning of her "big to-do," planned for May 23 at the University of Mary Washington's Seacobeck Hall.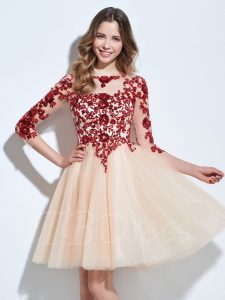 The event will be part wedding celebration, part "Project Runway." The happy couple, Heather and Brandon Jordan of Spotsylvania County, will share a runway and bright lights with 15 bridesmaids wear Womens Sexy Dresses  and nine groomsmen.
There will also be a red carpet for guests.
"That'll make it more elaborate," Jordan said, giggling.